Posted by Poppy the Angelic Fey, Honorary Friend of The Whimbles; Photography & Dimensional Artwork by Martha Young McQuilkin & The Whimbles · Feb 04, 2016
My name is Poppy, and I am an angelic fey. I arrived to see my Whimble Friends in my sleigh at the moment of The Winter Solstice. I brought the green andara crystal with me in celebration of the New Year and its precious New Light.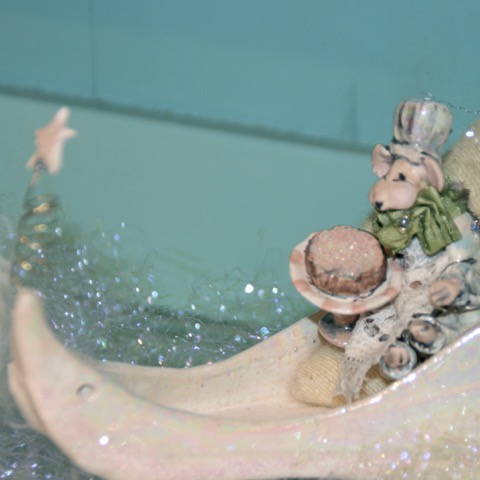 Gillian the Tiny Field Mouse arrived in his sleigh just after I did with his annual offering - a cheesecake. He is Annabelle the Baker's sous chef, and this sweet is his specialty.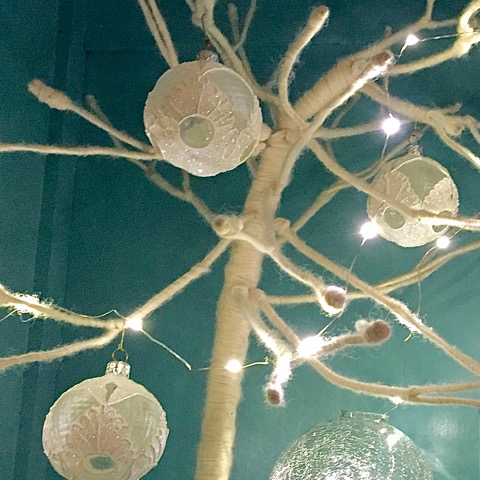 We both flew in through an open window out of the midnight sky and landed in The Whimble Studio below a glimmering white tree. It danced with starlight. We met tiny Trolliver the Lamb who sat admiring the tree.
He was surrounded by magical crystals and glass.
We were all enveloped in a blue winter night aglow with light as we fell into a deep rich sleep.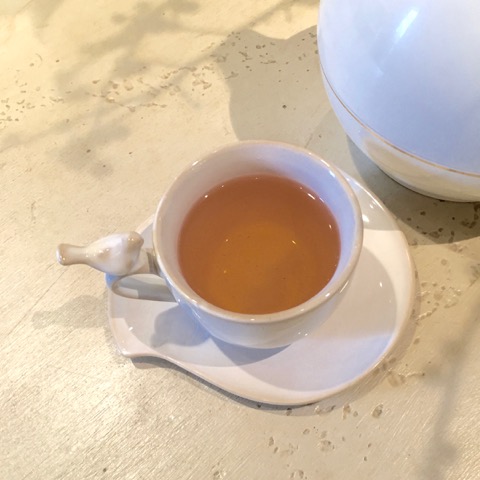 Just after the winter sun rose, I woke to the scent of jasmin and peach tea. Miss Martha was bustling about, rearranging this and that, taking a sip now and then from the sweet bird handled tea cup.
All at once, I saw Lilly, the bare-eyed cockatoo, waving at me. Within moments, we, too, were having a good visit.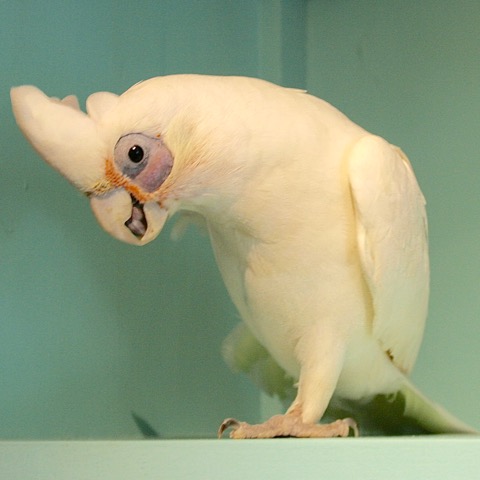 The morning light filled the studio. Lilly told me that in her twenty-two years, she always saw Miss Martha begin with "White by Design." Lilly was right. Cheerful color flowed throughout the home and The Studio, but white was the calming and anchoring complement.
The morning was a blur of activity.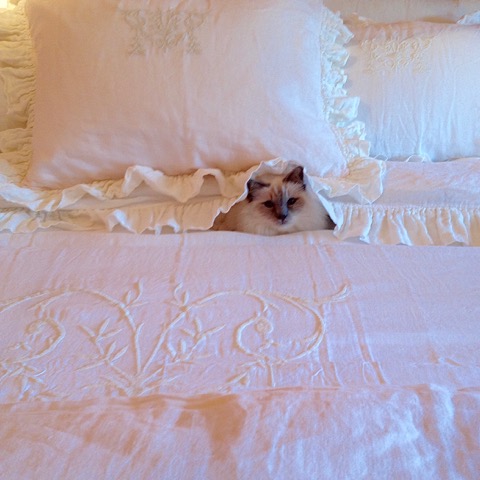 Early in the afternoon, however, I caught a glimpse of a sleepy Pasha, the lilac point Birman, and Noelle, the Australian Terrier. They never want to miss a thing, but I know they sneak off for mid-afternoon naps. Just look - eyes are open, but it's only for show! Soon, very soon, they will be dreaming.
I helped with artwork in The Studio that afternoon. At dusk we completed our day's work in time to create a sumptuous dinner.
While conversation flowed during our meal, we were transported by the starlight on both patios and the golden winter wreath on The Studio's entrance door.
Since I am an Honorary Friend of The Whimbles, I always stay with them throughout Winter and its New Light. During these early crisp clean weeks of the year, we are continually inspired and create daily, anticipating the New Life and New Beginnings soon to come.
Do come join us in our light filled Studio.