Posted by Hazel Rainbow Hedgehog of Penstemon Farm; Photography & Dimensional Artwork by Martha Young McQuilkin & The Whimbles · Jan 29, 2016
My name is Hazel Rainbow Hedgehog. I am featured in the second of The Chronicle Series: "The Chronicles of Wadleigh Weasel & The Whimbles - An Early Spring Tale" 2015. You can see below that we are all about narrative and are proud to be a part of the storybooks including Parts I-IV of "The Legend of The Land of Caelumen - A Prequel" and the first two present day Chronicles.
We are ever so busy preparing for "Day of Hearts." Although it is shivery weather outside, we are warm and cozy and joyous while we work in The Studio.
Just before the recent snowfall Delaney the Pillow Whimble brought Miss Martha a delicate camelia for her drafting table. Dreamy, no?
Stafford the Tiny Tree Frog is "in love." When the first felted lime green "Heart Tree" was completed, he swooned. This creation is the smallest in a new Whimble endeavor entitled The Seasonal Tree Series. Its sole embellishment is one magenta heart attached with antique gold cord. Staffie adjusts the roots so he can fit snugly underneath the tree branches where the two have glorious conversations. What will be exciting is the addition of bigger and bigger trees that will ultimately form a grove. We haven't told him yet since he would be beside himself.
The three Pillow Whimble brothers love "Day of Hearts" more than any of us if that is possible. The first week of January they began sewing lavender-filled bookmarks, a fine embellishment for one's favorite book.
In addition, they are determined to mastermind yet another project, Seasonal Lanterns, and have recently produced the first this year entitled "Heart to Heart." Of course, it looks exactly like the brothers - Valentine round shape, top hat, and ruffled collar.
All of 9" high, this piece is a sensation from all angles.
It is a pleasure to have been asked to speak to you today, but now I must help Miss Martha. She will want everyone to receive Whimble Heart Day offerings by February 14th.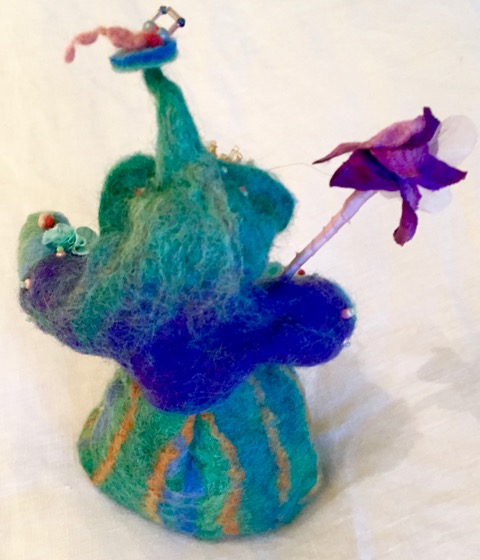 P.S. I hope you like my felted wrap and violet staff. I love violets you know. (The Whimble Studio - Midtown Atlanta)