Posted by Bostwick Riley of The Rabbit Scribe Warren on Penstemon Farm; Photography, Flat & Dimensional Artwork by Martha Young McQuilkin & The Whimbles · Nov 28, 2015
I, Bostwick Riley, have been invited to join my friends at The Whimbles Studio and home. As you will soon know if you purchase and read The Whimbles' Holiday publishing offering, "The Chronicles of Wadleigh Weasel & The Whimbles - An Early Spring Tale," I am a journaler and have been chosen to give you snippets of the happenings in this high energy environment.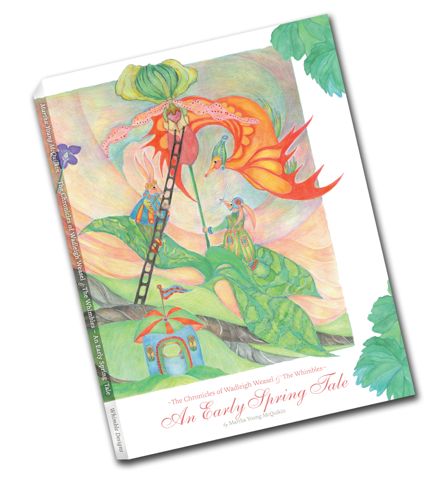 When I entered, I was enchanted. Above me was a soft suspended valance created from hand-dyed silk and velvet, Golden beads separated lengths of ribbon.
I was a bit taken back when the Santos, bedecked with velvet hearts and a crocheted delicate scarf, greeted me. His Companion, L'Onion the Lamb, couldn't wait to point out the santos staff decorated with a hand-carved rabbit - like me!
I thought I was in a greenhouse. Plants were everywhere. I was entranced by the cloches and the small glass spikes that kept them hydrated. The flora added balance and serenity.
Little Minerva the Faerie asked me to come see her beautiful encyclia orchid. She asked me to return when it blooms this spring because of its lovely vanilla scent.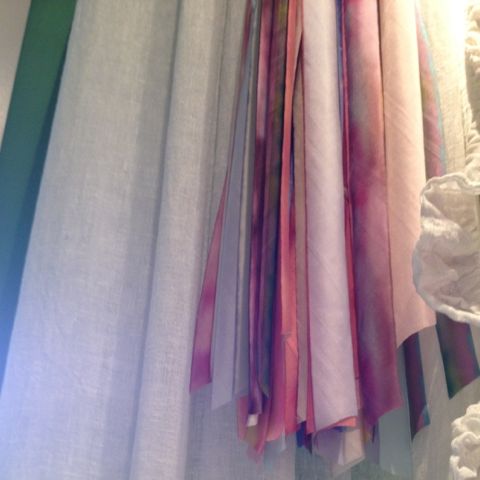 Around the corner I saw another magical composition - linen and multi-colored tassels of silk ribbon. I was so excited, yet calmed by being here. But, how could that be with the holidays just around the corner? (to be continued from The Whimble Studio - Midtown Atlanta)